Sunderland AFC
Sunderland Association Football Club began life back in 1879, at a meeting of school teachers headed by James Allen. At first, the club was called Sunderland and District Teachers A.F.C, but after the first non-teachers were allowed to join, it was renamed Sunderland A.F.C.

James Allan was identified as being the Sunderland AFC Treasurer, although at a subsequent meeting in 1887, Mr. Samuel Tyzack of the Monkwearmouth Ironworks was appointed Treasurer in place of Mr. James Allan, in effect ousting or maybe replacing the SAFC's founder. There is no mention of Allan volunteering to leave SAFC nor of Sunderland AFC giving James Allan a vote of thanks for all he had done for SAFC (including remember, founding the club, nor for founding Sunderland Albion). When James Allan left, he took many of the best players with him to join Sunderland Albion. The town could not afford to support two football clubs! It resulted in an intense rivalry.

In order to rescue the organization, directors Robert Thompson and Samuel Tyzack brought in fresh young talent. ( Samuel had played football, Australian Footy, for the very first Port Adelaide Football Team in 1870 with his future brother in law.) At the time, Sunderland was one of the richest clubs in the game, albeit still an amateur side. This financial clout allowed the club to buy the best talent around. With wealthy directors like shipbuilder Robert Thompson and coal owner Samuel Tyzack, Sunderland brought in more talented young Scottish players and applied to join the Football League. Their successful record in friendly matches against league teams helped their cause. They beat Aston Villa 7 - 2 in 1889 and a Villa official, William McGregor, (the league's founder) said that Sunderland had a talented player in every position.

The following year this 'Team of all Talents' was elected to the league. Sunderland Albion gradually faded from the scene.

The Football League had begun in 1888 with twelve clubs from Lancashire and the Midlands. Burnley, Blackburn Rovers. Everton, Accrington, Preston North End, Bolton Wanderers, Aston Villa, Notts County, West Bromwich Albion, Stoke, Derby County and Wolverhampton Wanderers. The idea was to provide regular matches against good teams - Each club played the other 11 teams twice, so there were only, 22 league matches for each club. Preston were the first champions and they also won the FA Cup. They were champions the next season too but they have never been able to win a third championship in over a hundred years!

During its first ten years in the new league Sunderland AFC was successful. Despite loosing their first game home game 3-2 by Burnley, the club did not lose a single home game after that. It won the league championship in 1892, 1893 and 1895, becoming the first club to win three championships. The organization did so well that it promoted to the new First Division of football in 1896.

After brief stints at grounds in Hendon, Ashbrook, Roker and Fulwell, Sunderland finally moved to Newcastle Road and what would become Roker Park.

...

...

...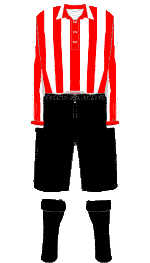 ...